I've always been fascinated with knives. Fixed blades, folders - you name it. In fact, for a while there, I owned an internet-based buisness (ADaM Sharps) selling them. I used to collect factory-made knives but once I had a custom made knife comissioned, my love for the off-the-shelf models all but disappeared. Lately though, I have started enjoying the specialty-made production knives again as more and more are becoming available with choices other than just black handled G10.
Note that most of these photos are clickable for a larger version.
---
This is a one-of-a-kind, custom made for me by Brian Tighe. The blade is Darrell Ralph's carbon damascus and the handle is mastodon ivory.
---
This little warnecliffe-style folder is also a one-of-a-kind custom made by Darrell Ralph for my wife. It has his own carbon damascus blade, a solid titanium handle and an abalone onlay.
---
Although this knife began life as a limited production Emerson Commander, it was then fully customized by Frank Recupero. It now has ironwood scales, ironwood backspacer with ivory inlays and extensive filework.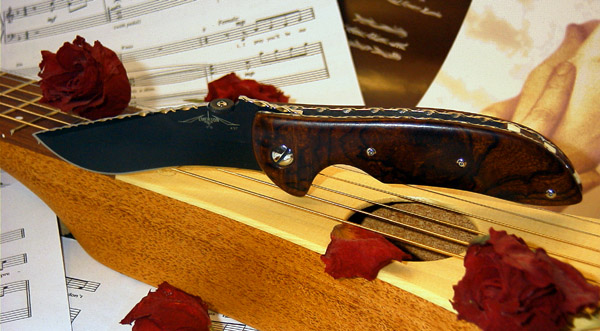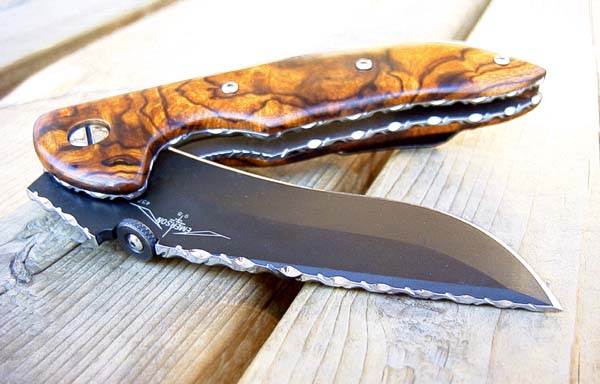 ---
Another customized factory knife, this Spyderco Khalsa now has stabilized charoite scales (stone) and a buffalo horn backspacer both inlaid with mother-of-pearl and a lot of file work. Again by Frank Recupero.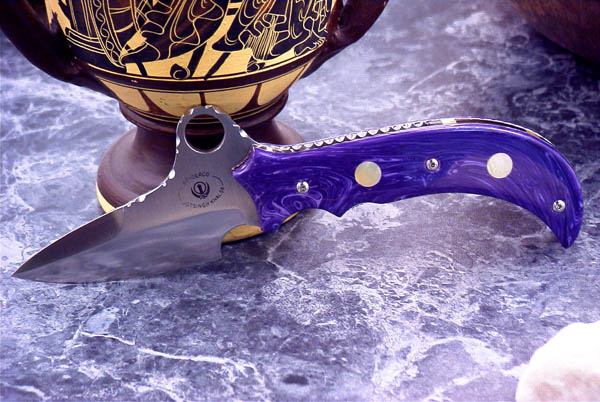 ---
The last of the Recupero customized knives, this little Spyderco Wegner Jr has red stag scales and filework.
---
This is A.T. Barr's Cape Fear as a presentation grade. It has an S30V satin-finished stainless blade and sambar stag scales. The blade and stainless back spacer are fully fileworked. Once I'd received the knife, I sent it to Adone Pozzobon to have it engraved.
---
These kitchen knives are made by "Shun" and feature a laminated blade steel: VG10 core with 32 layers of SUS410 stainless.
Simply amazing performance and edge holding!
---
This Benchmade Mini Rukus caught my eye one day and I decided to order it. Boy, am I glad it did! Turned out to be a real work horse and is now one of my most carried knives! (#2 after the Tighe)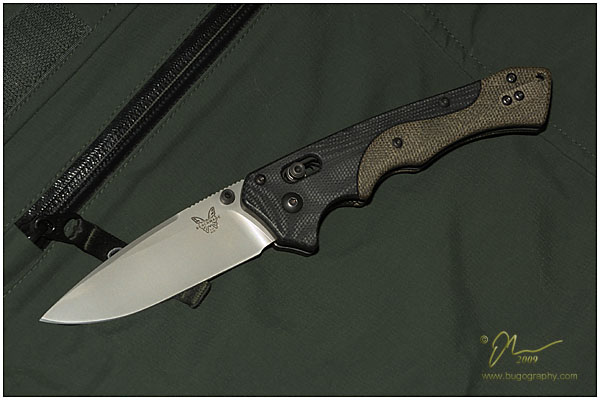 ---
Another handmade by Mr. A.T. Barr, this is his EDC with a CPM154 blade and jigged bone handle: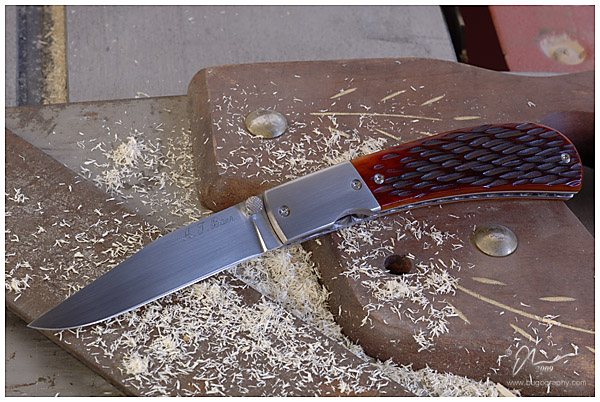 ---
After temporarily losing my Spyderco Police, I realized it was the only fully serrated knife I owned. So, when ordering a pair of floral snips to more easily trim foliage in my photographs, I decided to add this serrated Endura to the collection.
---
This nice little handmade hunter from Russell Easler has sheephorn slabs and ATS-34 blade:
---
A hand forged tanto by Peter Martin. The blade is differentially tempered W2 and the handle is cord wrapped over rayskin. A very cool little knife with a beautiful natural hamon.
---
Not wanting to carry anything in my pockets while riding, I put this Cold Steel Extra Large Gunsite Voyager in the glovebox of the 950 Adventure (this is actually the only zytel handled folder I own). With a 5" VG-1 stainless blade and an overall length of 11" it is truely a folding combat knife.
---
This is A.T. Barr's "One-Eyed Jack" with ATS-34 blade and ivory scales:
---
Here is a matching katana and wakizashi pair by Cheness Cutlery.
(text abridged from Cheness website) The blade body of the Kaze is a hand clayed and differentially heat treated 9260 silicon carbon spring steel. The tsuba (guard) on the Kaze is a cast steel construction with a design based on an antique tsuba. The tsuka (grip) is wood covered with same skin (ray skin) then wrapped in brown cotton cord with a double wooden mekugi (retaining pin).
---
Randall's Adventure Training calls this their Junglas Machete. Made by Rowen Manufacturing, this huge camp knife has a 10" 1095 carbon steel blade and a canvas micarta handle. It also came with a pretty slick kydex sheath.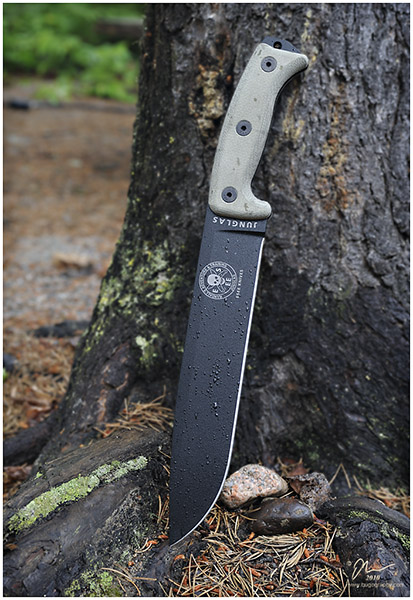 ---
When I saw this orange handled Kershaw Blur, it screamed "KTM" at me and I had to have it:
---
I love the old-school style of micarta and bolsters in this Persian-inspired Spyderco lockback:
---
Here is another of A.T. Barr's Cape Fear model. This time with Devin Thomas' stainless damascus and a titanium framelock handle.
---
This nice little Spyderco is a Bob Lum Chinese design.
---
Another Spyderco collaboration, this more utilitarian design is by Jens Anso.
---
A rare original Spyderco Civilian with hollow-ground plain edge, a modern one with a hollow-ground serrated edge and a zytel-handled, flat-grind serrated Matriarch: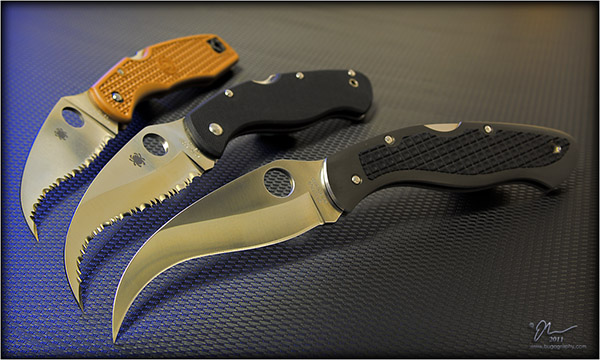 ---
A real workhorse, this Gayle Bradley design has a carbon steel CPM-M4 blade and carbon fibre scales: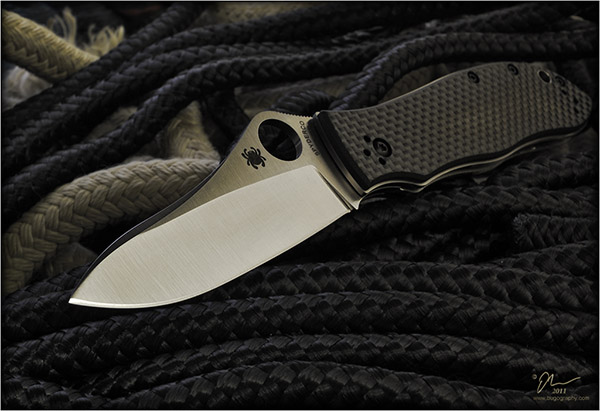 ---
A Benchmade "Black Box" model: the Bedlam. This is a real brute of a folder, built like the proverbial brick house. Although you can't quite make it out in this photo, the butt of the handle has a skull-crusher built in. Cool feature for a folder! This is number 729 from the first production run.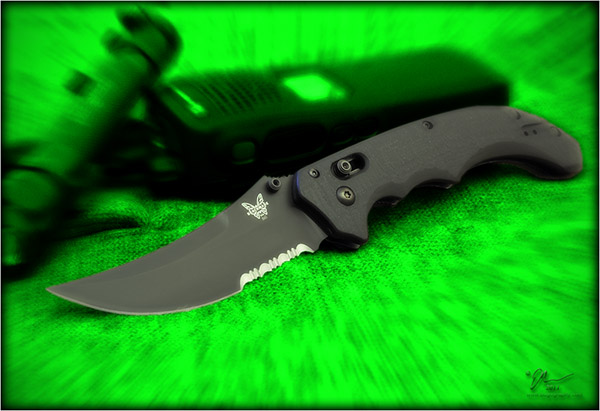 ---
Here is a Benchmade "Gold Class" model: the Ares. The blade is M390 (a supersteel) and the handle is coloured titanium. Very impressive fit and finish!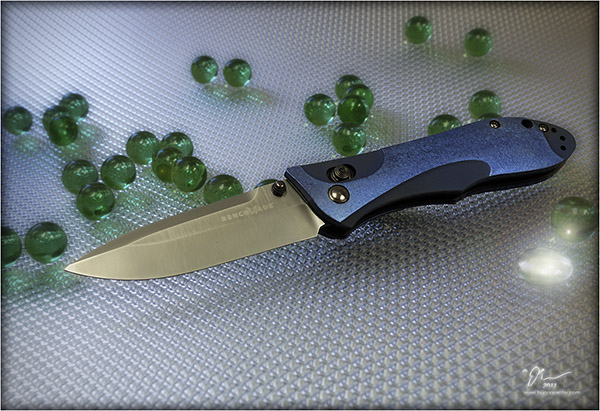 ---
Another orange handled Kershaw, this is a PackRat with G10 scales. I brought it to a trophy shop and had "GPSAT" engraved on it (GPS Adventure Touring is the name of the motorcycle club I am a member of - the background is an embroidered jacket).
---
Now this is one impressive little workhorse! DPx Gear calls this their H.E.S.T. 2.0. It is handmade in Italy by Lion Steel. The 3" D2 steel blade is an impressive 3/16" thick. The front scale is a thick piece of green G10 and the reverse scale is an equally thick slab of titanium that forms the integral lock. It also features a little screw mechanism that wedges the lock in place and essentially turns the little knife into a fixed blade - neat concept!
---
This assisted-opening, Axis lock, American tanto from Warn is made by Benchmade. The 3.7" blade is D2 tool steel and the handle is shaped G10.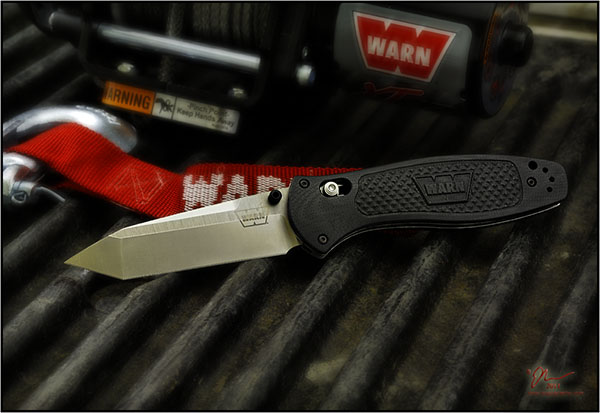 ---
This is an Emerson Specwar "Gentleman Jim". It has green micarta scales with titanium liners and bolsters. I suspect the blade is 154CM since that seems to be Ernest's preffered steel. The fit is flawless - very impressive!
---
I believe Allen Elishewitz called this model the "Spectre". Awesome blade profile and a titanium handle.
---
This is Randy Doucette's "Riot" with Mike Norris's stainless damascus and red canvas micarta scales. You can't really tell by the pic but it is one big folder! What a beauty!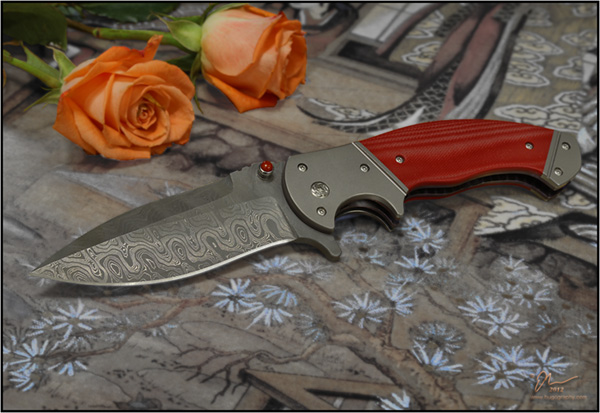 ---
Man, I am such a sucker when it comes to colour! Although I already have a Kershaw Blur (orange one above), when they released it again with a bright purple handle and a black blade I had to have another!
---
A cool cleaver shape to this S30V neck knive by WRKT:
---
Pat Crawford's "Casper" as a presentation model. The blade and bolsters are stainless damascus and the handle scales are mammoth tooth: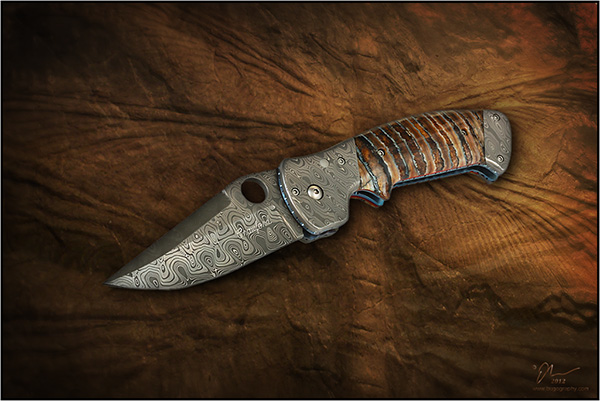 ---
Alan Elishwitz's Jeckyll has Chad Nichols' African Savannah Damascus and Lightning Strike carbon fibre: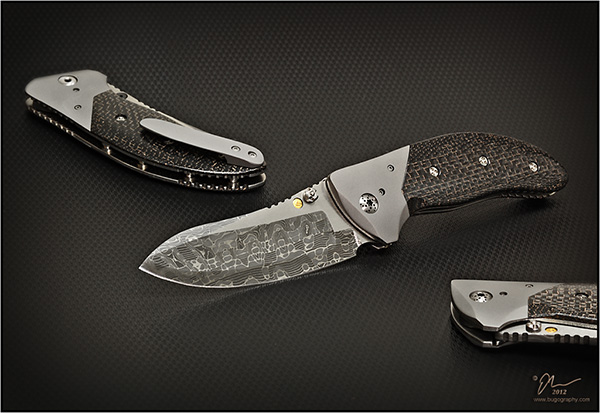 ---
The handle of this "TiSpine" from LionSteel is milled from a solid piece of titanium and the blade is Elmax super steel. Impressive!
---