As Administrator at [H]ard|Forums and Pheaton forums, I see many crazed ideas from users as to what they can put in their cases:
"I've got these car speakers I'm not using"
and
"I found a CB radio in the garage - should I put it in my case?"
So for my next project, I figured "what the hell - lets do it"


This time though, I thought I'd go a little bigger. For this project, I'm starting with a pre-modded case. Yeah, I know but with this case, installing the windows would have been..... difficult.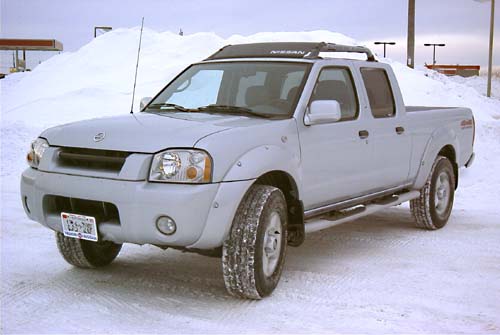 This is my 2002 Nissan Frontier V6 SE. I got the truck in late December of 2001 and began the project as soon as I got it. It took 18 months around 1,000 hours to do and was never fully completed (sat phone portion).
So anyhow, the primary concept behind this project was to have full access to all of my CDs while in the truck (the OEM head was a six-disc changer).
The music industry should be pleased with this project as since its completion, I've bought hundreds of new CDs. Every song on the HD is a 320k rip from my own collection - no DL'd internet crap. As an add-on note here, I will never buy a disc that is copy protected in some manner that I can not rip it and this project shows why. If you are curious, here is my music library.




Once again, the project is divided into sections:
Stereo Installation (and other Electronics)
Final Assembly


This project was highlighted on the front page of [H]ard|OCP on August 21st, 2003. It was also featured in the January edition of Computer Power User magazine.
Tech Specs
CPU
Celeron 1GHz
HSF
Thermalright SK6
Mobo
Shuttle FV24
RAM
256M PC133
Vid
Onboard
Sound
Creative Audigy 2 ZS
HD
Western Digital Caviar 80G