[1]
[2]
[3]
[4]
[5]
[6]
[7]
[8]
[9]
[10]
[11]
[12]
[13]
[14]
[15]
[16]
[17]
[18]
[19]
[20]
[21]
[22]
[23]
[24]
[25]
[26]
[27]
[28]
[29]
[30]
[31]
[32]
[33]
[34]
A very simple mod. Installed a Tekonsha Prodigy brake controller. Toyota provides all the connections under the driver's side kick panel.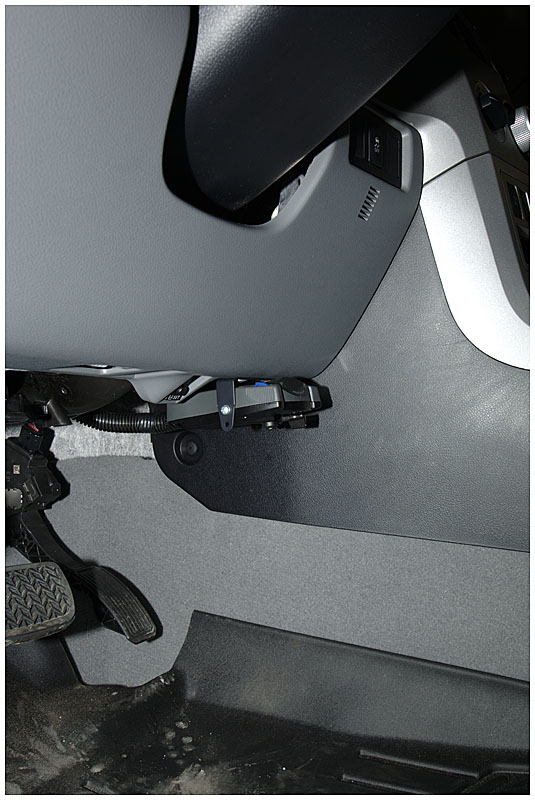 ---
At this point I do not yet have the component speaker system so I decide to install the head unit and the navigation system.
The first device to go in is the Alpine NVE-N872 navigation system. Since it is DVD based, it has to be mounted flat. With such a large truck, you wouldn't think finding a flat surface to install it would be difficult - wrong! There are ventilation ducts under the front seats and the bench seat in the back folds almost flat to the floor squashing anything under it . With no other choice, I decided to carefully mount it under the driver's seat.
So, out comes the seat. You gotta love new trucks. The seat bolts release so easily! Three plugs later and here we are:
The brackets are turned outwards and mounted to the "humps" the seat is bolted to. The power cabling runs to the trough in the door sills and the display and signal cables are pulled to the transmission hump and up through the center console.
While I had the seat out, I also ran the majority of cabling that will be required for the electronics in the back (optical, AI-Net, etc).
Here is the nav unit installed: